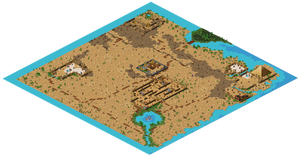 Reval, the desert world, is located through the north-western most Travelers Sign in Dorpat. Upon arriving on the south-eastern most tip of Reval, the town is located to the west across the bridge. Other locations on this map include the Snake Maze, Jewelry Guild, Ant Maze, The Oasis and Pyramids. You will also find Travelers Signs that can bring you to the neighboring worlds of Cesis and Dorpat, as well as the entrance to Pernau.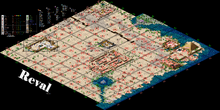 Check the entire List of NPCs.
Check the entire Monster  list.
WoodcuttingEdit
Check the entire Tree list.
| | Name | Loots | Level | XP |
| --- | --- | --- | --- | --- |
| | Dead Tree | - | - | - |
| | Cactus | Cactus Wood | 5 | 8 |
| | Maple Tree | Maple Log | 35 | 23 |
| | Name | Loots | Level | XP |
| --- | --- | --- | --- | --- |
| | Clay | Clay Ore | 0 | 5 |
| | Sand | Sand Ore | 1 | 5 |
| | Silver | Silver Ore | 25 | 25 |
| | Coal | Coal Ore | 40 | 35 |
| | Gold | Gold Ore | 45 | 40 |