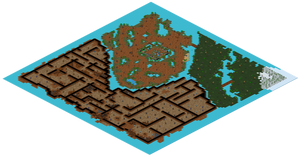 Rakblood contains several monsters of varying levels, as well as locations for mining and fishing. The map consists of three primary areas which include, the Golem Maze, City island, and Grass lands with conjoining snowy right corner. The city of Rakblood can be found on the middle of the center brown and green island and is surrounded by water and a stone wall; access to the city is made by crossing a single wooden bridge. When arriving in Rakblood from Whiland, the player will encounter two Bronze Golems level 26 which cannot be avoided when traveling to the City of Rakblood; except when traveling to Narwa, all other monsters can be avoided with enough Combat Level. Rakblood is the home of the starfish.
EntrancesEdit
Other than using a Scroll or potion, Rakblood can be entered on foot by either using the...
Ladder (down) located in Whiland (71,46) arrives in Rakblood (39,21).
Ladder (up) located in Narwa (19, 81) arrives in Rakblood (87, 91)
Dangers:
Access to Rakblood Town from Whiland is blocked 2 Combat Level 26 Bronze Golems (directly, more if Aggro)
Access to Narwa from Rakblood is blocked by 3 Combat Level 92 Rock Spirits (Aggro).
For the 10th kill quest "Mining Some Golems Part 1" the recommended location to kill Bronze Golems is Rakblood.
For the 13th kill quest "Explore Explorers", the recommended location to kill Explorers is Rakblood.
For the 17th kill quest "Mining some Golems Part 2" the recommended location to kill Iron Golems is Rakblood.
Check the entire List of NPCs.
Check the entire Monster list.
WoodcuttingEdit
Check the entire Tree list.
| | Name | Loots | Level | XP |
| --- | --- | --- | --- | --- |
| | Dead Tree | - | - | - |
| | Willow Tree | Willow Log | 20 | 18 |
Rakblood is an excellent place to train the Mining skill. Within the Golem Maze can be found Tin, Iron, Coal and White Gold. When storing ores in the city chest, the player must kill at least 3 Bronze Golem when traveling to and from Iron Ore or White Gold, and 2 Bronze Golems when mining Iron or Coal. If mining Iron without combat is the players sole desire (as it saves time to continue mining), it is recommended to mine Iron in Dorpat Skeleton Dungeon and store ores in the Dorpat Outpost Chest.