Entrance to No Man's Land is located at (66, 8) in Narwa. This is a PVP zone where death can be by player or by mob. If by player, they get any items that you lose. All mobs are aggressive to you regardless of you being 20 levels above them.
The Danger Zone icon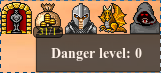 shows the difference in your Combat Level and that of the player who can attack you. The deeper you go, the higher the Danger level and the more players could attack.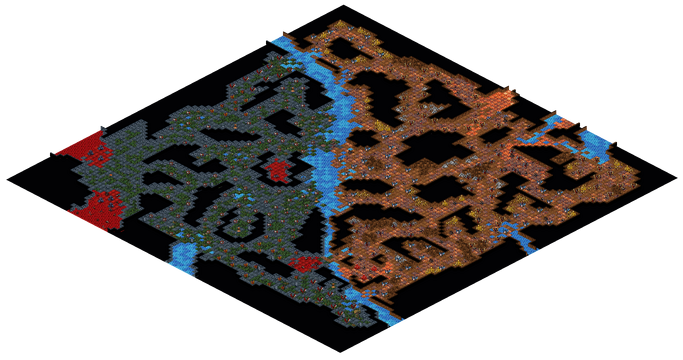 No Man's Dungeon is another PvP zone that is directly under No Man's Land. It can be accessed at points: (19,48)(17,65)(31,64)(52,39)(49,19)(79,17)(55,44)(44,58)(27,77)(37,83)(79,64)(61,92). No Man's Land can be reached from No Man's Dungeon at the same points.
Check the entire List of NPCs.
PVP Shopkeeper buys any item in the game at 40% of its wiki value - including rare and event items. Equipped items will not show up in the shopkeepers window.
Check the entire Monster  list.
| Image | Name | Level | Health | Accuracy | Strength | Defense |
| --- | --- | --- | --- | --- | --- | --- |
| | Novice Knight | 30 | 40 | 30 | 20 | 30 |
| | Knight | 53 | 65 | 60 | 30 | 60 |
| | Baron | 86 | 100 | 100 | 45 | 100 |
| | Earl | 127 | 150 | 150 | 60 | 150 |
| | Prince | 180 | 210 | 200 | 110 | 200 |
| | King | 275 | 290 | 350 | 110 | 350 |
| | Marquis | 160 | 190 | 190 | 70 | 190 |
| | World Tree | 3775 | 12,000 | 900 | 50 | 150 |
| | Ogre King | 1602 | 5000 | 900 | 60 | 450 |
| | Emerald God | 3105 | 11,000 | 900 | 70 | 450 |