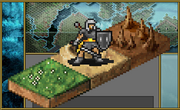 Other languages: Português, Polski, 한국어(Korean)
Welcome to the RPG MO Wiki! What is RPG MO?

[

]
RPG MO  is a sandbox, 2D style game with 19 skills to train and new content being introduced in regular updates.
It can be played from almost any web browser that supports HTML 5, from a variety of game hosting websites like Kongregate, MocoSpace ,and Steam. It is available from the Google Play Store, with standalone clients also available for download for Windows, Mac, and Linux/Android. Modb site here.
* Secure game link:
General System Requirements
[
]
Internet connection
Web Browser: latest Chrome/Firefox/Internet Explorer/Opera
Steam
CPU: 1GHz+ (recommended)
RAM: At least 256 MB (512 MB recommended)
Hard drive: 50 MB of free space (for cache)
Input: Mouse, keyboard, touch, game pad
Getting Started
[
]
Features

[

]
Items

[

]
Notes From Editors
[
]
We now have a page for Player Notes! Come check it out and add any comments, suggestions or requests.
updated by Bbrian (November / 2019).