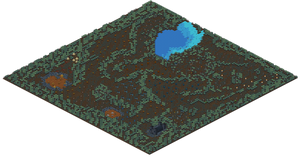 You can enter it by going to the east side of Walco, though the illusion gate. Take the south portal 4 times and you will enter the forest. There is a chest, so its possible to use the market. In the southern part of the map is the entrance to the dungeon Cathedral, which is available every 48 hours.
Check the entire List of NPCs.
Check the entire Monster  list.
| | Name | Loots | Level | XP |
| --- | --- | --- | --- | --- |
| | Silver | Silver Ore | 25 | 25 |
| | Gold | Gold Chunk | 45 | 40 |
| | White Gold | White Gold Chunk | 55 | 50 |