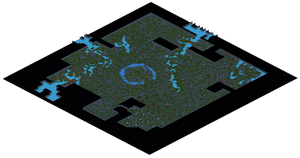 The Ancient Dungeon can be reached from the Northern part Cesis. There is an outpost in the North-East with a chest (44, 91), a campfire and two NPC.
Check also all the Locations.
Check the entire List of NPCs.
Wooden Harpoon [Level 50] (36, 88)
Fishing Net [Level 70] (35, 83)
Poseidon's Trident [Level 95] (34, 87)
Check the entire Monster list.